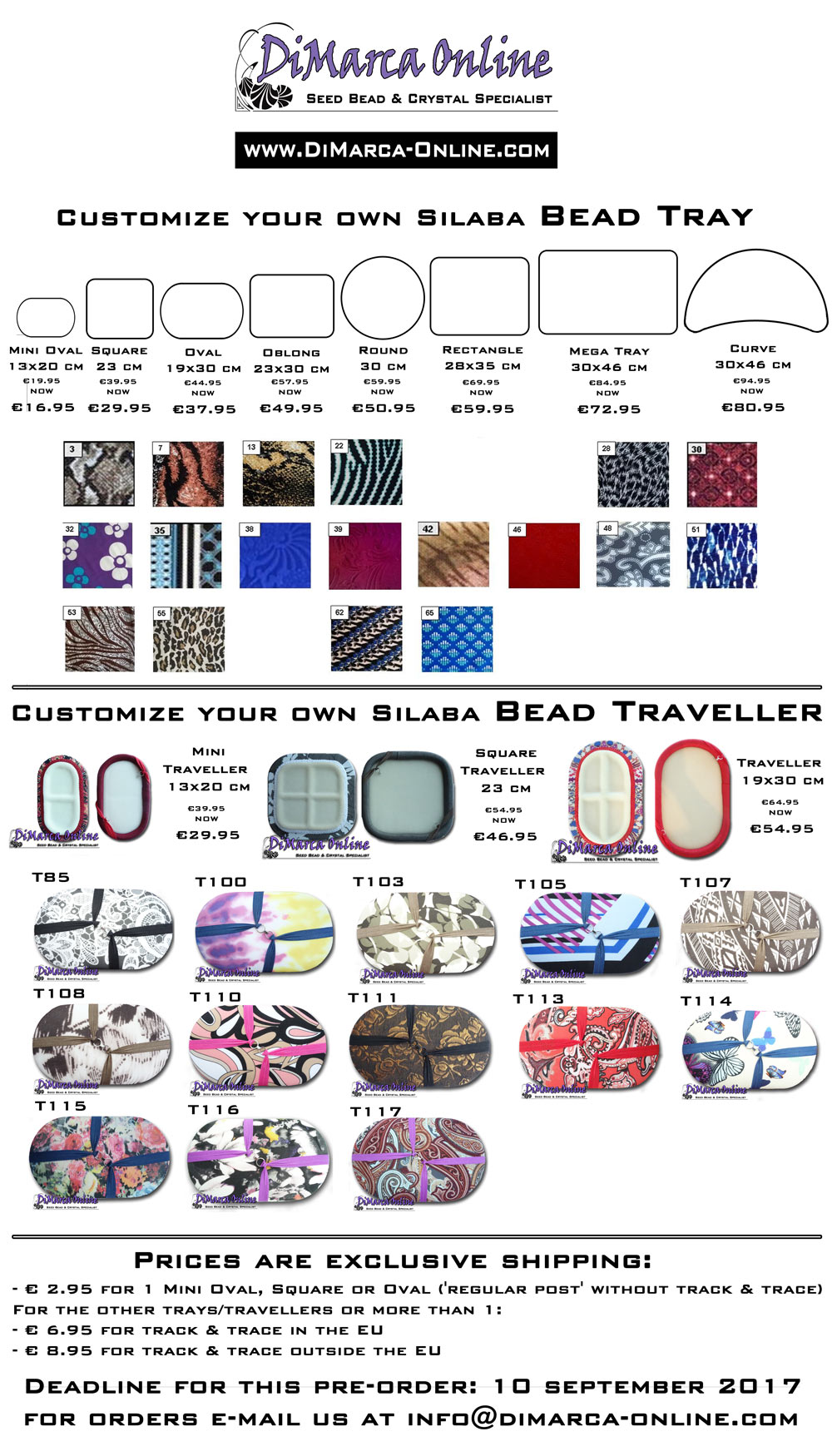 PRE-ORDER BEAD TRAY SALE: Customize your own Bead Tray or Traveller:

15% - 25% OFF all CUSTOMIZED BEAD BOARDS/TRAYS by Silaba Crafts!
Deadline: 10 September 2017
They are handmade to order:
- TRAYS in 8 sizes/shapes
- TRAVELLERS ('double' Bead Trays with Dilly Pads in the lid) in 3 sizes/shapes

For the Bead Trays and Travellers:
see the picture for prices and possible fabric choices for the lids and rim.
If you would like to join the PRE-ORDER: please let us know your choice of Tray and Fabric BEFORE 10 September 2017 by e-mail: info@dimarca-online.com
It will take about 3-4 weeks to make and to get to us.

Shipping costs:
- € 2.95 for 1 Mini Oval, Square or Oval ('regular post' without track & trace)
Other:
- € 6.95 for track & trace in the EU
- € 8.95 for track & trace outside the EU
Beading Trays Silaba Crafts:
♦ Handmade
♦ The Tray has a wooden base fitted with a high quality 'Branded' Mat
♦ A soft underlay cushions the Mat which is ringed with a 20 mm cushioned outer rim, dressed in a complimenting design fabric
♦ The rim is great for holding your threaded needles
♦ Offers a soft rest for your hands / wrists while working
♦ The underside is finished with a quality Fabric to protect your furniture and offers added comfort as a Lap-Tray
Colours can differ from the pictures, depending on the piece of fabric used.
Some examples of Bead Trays and Travellers we already carry:
https://www.dimarca-online.com/bead-trays.html?page=all
Around 10 september - deadline for this pre-order

- we will send everyone by e-mail the invoice and ask for your address. You can pay through PayPal or bank transfer. The Trays/Travellers will be sent as soon as we receive them and after we received your payment.
Questions? Please let us know @ info@dimarca-online.com!