Swarovski 40001 Crystal Mesh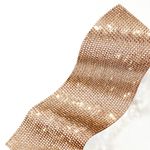 CRYSTALLIZED™ - Swarovski Elements Crystal Mesh - 40001
CRYSTALLIZED™ - Swarovski Elements Crystal Mesh. Crystal Mesh is a fluid metal mesh carrier with integrated loose crystals (2.7 mm each). The setting has four holes on the back, 1 on each side.Crystal Mesh is available as a Hotfix version, which can be applied by heat or sewn, or Non Hotfix, which can be sewn.You can use them for embellishing or string them as a bead. They are sold in a net with 50 crystals in total. The crystals are connected with little rings that you can cut if you want to use them separately.
If you are using the Crystal Mesh in your beadwork, use a needle that is small enough to go through the holes smoothly. Do not push through, because that way you can open up the back side of the setting and the bead will fall off your thread. Try a smaller size needle if it doesn't slide easily.
This is crystal of the highest quality.
Size: PP21 = SS10 = 2.7 mm
Sold per 50 pieces
If you order more than 50 pieces, and you would like it in one piece, please let us know, because we have some available in longer pieces.
Also let us know if you would like to receive the Crystal Mesh with the foil on top, we have some available.